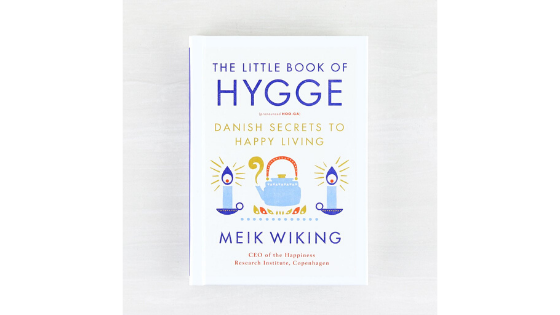 "As Lonely Planet points out, "The Danes are obsessed with coziness. All of them. Even the toughest leather-clad biker will recommend a bar based on its 'hygge' factor."
The Little Book of Hygge: Danish Secrets to Happy Living, while simple in its own way, is a delightful little tome designed as if to summon, with so few pages and so few words, the feeling of hygge that it so readily talks about.
But what exactly is hygge?
It is a concept that, Meik Wiking, CEO of the Happiness Research Institute in Denmark, is happy to call very Danish, and is what keeps the Danes among the happiest people in Europe. While this declaration is supplemented by a welfare state that provides its citizens with ample security and societal needs, Wiking points out to hygge as a major factor in keeping Danes happy.
"What might also be unique for Denmark when it comes to hygge is how much we talk about it, focus on it, and consider it as a defining feature of our cultural identity and an integral part of the national DNA."
In all honesty, the book itself is a simple one, one peppered with charming illustrations, sumptuous recipes, and lists such as "The Hygge Wishlist: Ten Things That Will Make Your Home More Hygellig" and "The Hygge Emergency Kit." However, it does cite several pieces of research done by happiness researchers and scientists, as well as graphs, studies, and surveys done on the study of hygge.
It's a very easy read, and Wiking's writing style is quite simplistic. He talks of bike rides, of candles, of camping with friends, of well-loved furniture, of warm hearths. It's almost very personal to read, but one cannot deny how cozy it makes one feel, and just reading about summer picnics, mushroom foraging, homemade elderflower cordial, and, of course, lighting candles gives one a feeling of hygge despite merely reading its descriptions on the page.
As for the Danish secrets of happy living it talks of, it seems that these are but commonsense concepts that everyone knows about. As Wiking states, "… we feel loved, warm, and safe, which are three key words in the concept of hygge." What he speaks of in his book are not unknown to any of us, but they are concepts that we might find difficult to exercise were we caught in a whirlwind of a rushed life. After all, in a world where instant is almost a necessity, the slow and thoughtful living that Wiking presents in his book almost sounds idyllic and impossible.
I personally enjoyed this book and reveled in its hints of crackling firewood, kind words of gratitude, warm ceramic cups, and lit candles. It's a nice book to remind one of the beauty of a slow life and to take joy in the every day.
"As Robert Kennedy pointed out: The gross national product does not allow for the health of our children, the quality of their education or the joy of their play. It does not include the beauty of our poetry or the strength of our marriages; the intelligence of our public debate or the integrity of our public officials… it measures everything, in short, except that which makes life worthwhile."
The Little Book of Hygge: Danish Secrets to Happy Living by Meik Wiking
My rating: 4 of 5 stars
Review first written September 2, 2019.